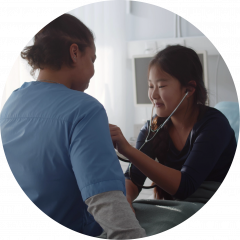 Auxora for Acute Pancreatitis in Pediatric Patients on Asparaginase for Acute Lymphoblastic Leukemia (ALL)
An investigator-sponsored Phase 1/2 clinical trial (CRSPA) is ongoing at St. Jude Children's Research Hospital (SJCRH) investigating Auxora as a potential therapy in pediatric patients that develop AAP as a result of treatment for their underlying ALL. We believe that this study will provide valuable information on the use of Auxora in critically ill pediatric patients. Patients enrolled in this trial are treated with four daily doses of Auxora with the primary endpoints of safety, tolerability and the reduction in development of complications of AAP. We anticipate expansion of this trial will begin in H1 2023. Results of this trial will be evaluated to inform the implementation of company-sponsored trials. 
For more details on the clinical trial, please visit: Study of Auxora to Reduce the Severity of Pancreatitis Due to Asparaginase
Information on our Expanded Access Policy can be obtained through the following link.