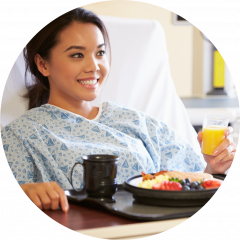 Acute Pancreatitis with SIRS
Phase 2a clinical trial in acute AP patients with SIRS
The target population for Auxora in our ongoing Phase 2b clinical trial is AP patients with accompanying SIRS, which we estimate to be approximately 100,000 patients per year in the United States.
CalciMedica completed a randomized, open-label Phase 2a clinical trial of AuxoraTM in 21 AP patients with systemic inflammatory response (SIRS) who also had hypoxemia at presentation. Patients treated with AuxoraTM in addition to standard of care had multiple improved outcomes, including the ability to tolerate solid food and fewer days spent in the hospital, compared to patients treated with standard of care alone. In addition, there were several patients with severe respiratory failure at enrollment and the majority of those treated with AuxoraTM did not require mechanical ventilation.
CARPO Phase 2b clinical trial in AP with SIRS
In March 2021, CalciMedica initiated a Phase 2b clinical trial (CARPO) in AP patients with SIRS. This randomized, double-blind, placebo-controlled trial examines three dose levels of AuxoraTM versus Placebo. The clinical trial includes 54 patients in each of the four cohorts. Doses for two cohorts are the same as the doses patients received in the open-label Phase 2a clinical trial. A third cohort receives half the middle dose level. The fourth cohort receives matched volumes of Placebo. This dose-ranging trial is intended to establish a dose-response in AP.
Endpoints include measures of safety, patient benefit and outcome improvement with a primary endpoint of food tolerance and responder analysis. Experts suggest that food tolerance is the best measure of clinical efficacy in AP. In addition to being the primary endpoint, food tolerance will be validated through a responder analysis. Results from this clinical trial are anticipated in the second half of 2023.  
For more details on the clinical trial, please visit: A Study of Auxora in Patients With Acute Pancreatitis and Accompanying SIRS and the CARPO Awareness Video.
Information on our Expanded Access Policy can be obtained through the following link.