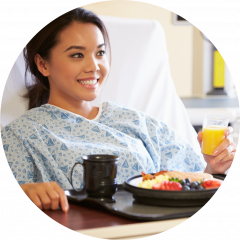 Acute Pancreatitis with SIRS
In March 2021, we initiated a Phase 2b clinical trial (CARPO) in patients with AP and accompanying SIRS. This is a randomized, double-blind, placebo-controlled trial examining three dose levels of Auxora versus Placebo. The clinical trial includes 54 patients in each of the four cohorts. Doses for two cohorts are essentially the same as doses patients received in the open-label Phase 2a clinical trial. A third cohort is receiving half the middle dose level. The fourth cohort will receive matched volumes of Placebo. This dose ranging is intended to establish a dose-response in the AP setting. Endpoints include measures of safety, patient benefit and outcome improvement with a primary endpoint of food tolerance and responder analysis. Advisers suggest that food tolerance is the best measure of clinical efficacy, and, in addition to being the primary endpoint, food tolerance will be validated through a responders' analysis. We anticipate results from this clinical trial in the second half of 2023.  
For more details on the clinical trial, please visit: A Study of Auxora in Patients With Acute Pancreatitis and Accompanying SIRS and the CARPO Awareness Video.
Information on our Expanded Access Policy can be obtained through the following link.