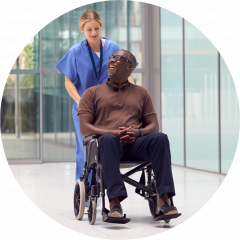 Auxora™ in Acute Respiratory Distress Syndrome (ARDS)
CARDEA Phase 2 clinical trial in COVID-19 pneumonia patients (no ventilators)
In April 2020, CalciMedica initiated a clinical trial (CARDEA) to test AuxoraTM in COVID-19 patients hospitalized and requiring oxygen therapy but not on ventilators. This trial was initially conducted as a Phase 2 randomized, open-label clinical trial in severe COVID-19 pneumonia patients with varying degrees of respiratory failure where time to survival, blood oxygen levels, ventilator use, and mortality were evaluated. The first safety analysis of the data suggested that patients receiving AuxoraTM in addition to standard of care (SOC) were less likely to be placed on mechanical ventilation or to die, and they experienced a reduced time to recovery than those treated with SOC alone.
After 30 patients were enrolled in the first part of the trial (Part 1), the U.S. Food and Drug Administration recommended that AuxoraTM be studied in a blinded, placebo-controlled trial.
Part 2 of this trial was initiated in September 2020, and 284 severe COVID-19 pneumonia patients were enrolled in this randomized, double-blind, placebo-controlled clinical trial. Patients treated with AuxoraTM experienced a reduced time to recovery, higher rate of recovery and reduced mortality.
For more details on the clinical trial, please visit A Study of Auxora in Patients With Severe COVID-19 Pneumonia and the Critical Care papers published in 2020 and 2022.
Phase 2 clinical trial in COVID-19 patients with pneumonia on ventilators
In addition, a Phase 2 randomized open-label, placebo-controlled dose escalation trial of AuxoraTM in mechanically ventilated patients with COVID-19 pneumonia is being conducted at Northwestern University. This trial aims to determine an effective dose of AuxoraTM using pharmacodynamic markers from bronchoalveolar lavage fluid.
Patients received either AuxoraTM or placebo for three or four days, or an initial infusion followed by four days of continuous infusion. The amount of time patients remaining on the ventilator is measured as well as lung lavages are taken to determine the level and activity of macrophages, monocytes and IFNγ-secreting T-cells in patients receiving drug and placebo. We are currently evaluating further opportunities for Auxora in viral pneumonia respiratory failure.
For more details on the clinical trial, please visit: A Study of Auxora in Patients With Critical COVID-19 Pneumonia.
Information on our Expanded Access Policy can be obtained through the following link.