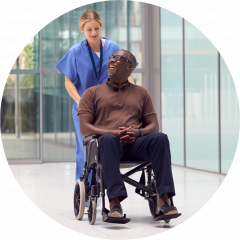 Auxora for COVID-19 and Acute Respiratory Failure
Clinical data from a Phase 2 randomized, open-label trial in severe COVID-19 pneumonia patients with varying degrees of respiratory failure, showed that patients receiving Auxora in addition to the standard of care were less likely to be intubated or to die, and they recovered faster than those treated with the standard of care alone. The preliminary results of this trial prompted the U.S. Food and Drug Administration to strongly recommend CalciMedica transition from the open-label study to a blinded pivotal trial.
In September 2020, we initiated Part 2 of our COVID-19 pneumonia trial (Phase 2b) which is an on-going randomized, blinded, placebo-controlled comparison of Auxora versus placebo in up to 350 patients on top of SOC. Currently, patients are eligible for enrollment in Part 2 if they require low-flow or high-flow supplemental oxygen therapy and meet several criteria, including P/F ratios between 75 and 200 mmHg. Originally, the trial was to enroll 400 patients with P/F ratios between 75 and 300, with the number of patients with mild respiratory failure, or a P/F above 200, capped at 20%. However, at this time, enrollment of these patients has been capped early after 26 such patients were enrolled. Endpoints being measured include time to recovery, all-cause mortality at day 60 and day 30, and mechanical ventilation and mortality during the 60 days after randomization.
For more details on the clinical trial, please visit A Study of Auxora in Patients With Severe COVID-19 Pneumonia and the Critical Care paper.
Information on our Expanded Access Policy can be obtained through the following link.
In addition to the study in COVID-19 pneumonia patients receiving oxygen therapy, we are conducting a Phase 2 randomized open-label, placebo-controlled dose escalation trial of Auxora in mechanically ventilated patients with COVID-19 pneumonia to determine an effective dose of Auxora for treating these patients using pharmacodynamic markers from bronchoalveolar lavage fluid. This study is being conducted by researchers at Northwestern University who have published their work elucidating the mechanism of SARS-COV2 pathology in the lungs of COVID-19 pneumonia patients (Grant et al., Nature January 2021). Up to 36 patients are to receive either drug or placebo for 3, 4 or 5 days and in addition to other endpoints, the impact of Auxora on time that patients remain on the ventilator is also being measured. Lung lavages will be taken to determine the level of macrophages, monocytes and INF-g-secreting T cells in patients receiving drug and placebo. Single-cell RNA sequencing is being performed to determine the viral load and the extent of viral replication within the infected macrophages. We plan to use the findings of this study to establish an effective dosing schedule for further studies of Auxora in the treatment of ventilated ARDS patients.
For more details on the clinical trial, please visit: A Study of Auxora in Patients With Critical COVID-19 Pneumonia.
Information on our Expanded Access Policy can be obtained through the following link.