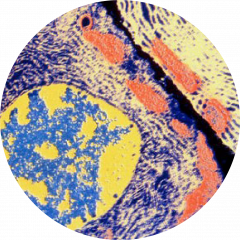 CalciMedica is a clinical-stage biopharmaceutical company focused on developing first-in-class therapies for life-threatening inflammatory diseases with high unmet need. CalciMedica's proprietary technology targets the inhibition of CRAC channels designed to modulate the immune response and protect against tissue cell injury, with the potential to provide therapeutic benefits in life-threatening inflammatory diseases for which there are currently no approved therapies.
CalciMedica's lead product candidate Auxora, a proprietary, intravenous-formulated CRAC channel inhibitor, has demonstrated positive and consistent clinical results and a favorable safety profile in four completed efficacy clinical trials. Auxora is in development for acute pancreatitis and asparaginase-associated pancreatitis. CalciMedica was founded by scientists from TorreyPines Therapeutics and the Harvard CBR Institute for Biomedical Research, and is headquartered in La Jolla, CA.
On November 21, 2022, CalciMedica and Graybug Vision entered into a definitive merger agreement to combine the companies in an all-stock transaction. The combined company will focus on further developing Auxora, to treat life-threatening inflammatory diseases, such as acute pancreatitis (AP), asparaginase-associated pancreatitis (AAP), acute kidney injury (AKI), and acute hypoxemic respiratory failure (AHRF), for which there are no currently approved therapies.