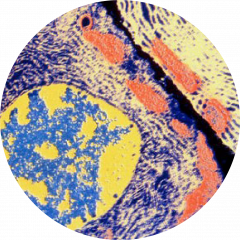 CalciMedica is a clinical stage biopharmaceutical company developing inhibitors of CRAC channels for the treatment of inflammatory diseases, including acute pancreatitis and COVID-19 pneumonia. CRAC channels are critical for the transport of calcium, a key messenger molecule, into many cell types. Calcium is an important regulator of multiple biological functions, and CRAC channel activation controls several of these functions including inflammation, vascular permeability and cell death. CalciMedica has developed a portfolio of wholly-owned CRAC channel inhibitors and custom assays to optimize chemical leads.
The Company's extensive preclinical work has shown a clear link between CRAC channel activation and a broad spectrum of both acute and chronic diseases that have the common thread of inflammation in their pathogenesis. CalciMedica is advancing both an intravenous formulated CRAC channel inhibitor, AuxoraTM, for the treatment of acute inflammatory indications such as acute pancreatitis, COVID-19 pneumonia, as well as an orally available CRAC channel inhibitor, for the potential treatment of chronic pancreatitis.
CalciMedica is headquartered in San Diego, CA.